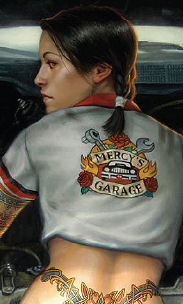 Book Cover Art Prints by Daniel Dos Santos:
We have a limited number of beautiful book cover art prints by the amazingly talented Daniel Dos Santos. Once these are sold out, we will be closing down this store site. We may have other options for Mercy merchandise in the future, but meanwhile we are selling out our inventory so we have less "stuff" to move into our new offices later this year.
Store Closed For the Holidays:
We're closing the store until after the New Year to enjoy time with family and friends. Happy Holidays everyone!
Shipping:
We ship almost everything by priority mail. It's more secure, and vastly easier than running around town looking for packing materials all the time. We're a tiny company, so we generally ship once a week, usually on Fridays. Please be patient — we're sometimes a little slow!