Make-Up Signing In Las Vegas
By: Mike
March 26, 2016
Patty and I were unable to attend two of the signings that were scheduled earlier this month. We've already tendered apologies, and we'll be sending T-shirts and book plates to Murder By The Book in Houston to make amends. By dint of some happy coincidence and a helpful bookstore manager, we've managed to re-schedule the Las Vegas signing. So, we'll be at the Barnes & Noble on Rainbow Blvd at 5:30 PM on April 15. Hopefully there will not be any further catastrophes! Thank you to everyone involved for being so kind and understanding, we know that some people were traveling a considerable distance to attend.
On Forest Guardians
By: Mike
March 26, 2016
A few days ago someone posted a link to our Facebook with the following image of a tree. It's a gnarled and ancient thing, and with the addition of a couple of eyes it is transformed into a world-class scarecrow. Well, scare-something anyway. Seriously, if I were coming around the corner and saw that, I would no longer need to worry about how many miles to the next rest-stop.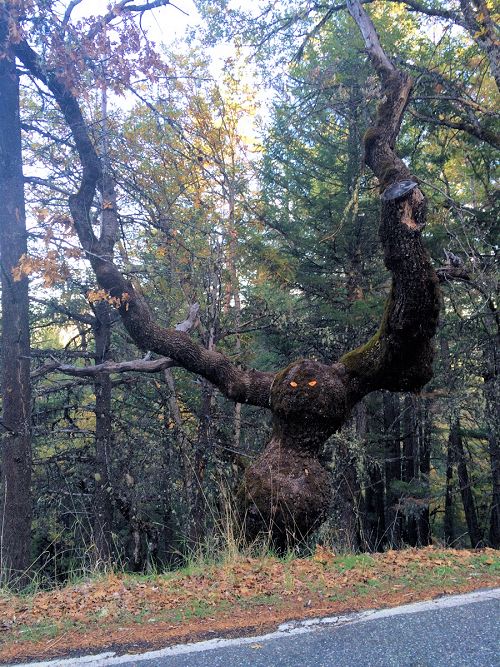 By sheer coincidence we've had a problem with people trespassing on our land lately. There's an old canal road that meanders across the southern border of our land, and I haven't found the time to put a perimeter fence across that portion of our property (remember, setting a fence post in this area is not a task to be undertaken lightly!). Since the property isn't clearly marked, we've had a number of folks using our south pasture as a four-wheel-drive park, picnic spot, or whatever.
After seeing this amazing "guardian spirit" tree, I thought that perhaps we could do something similar to secure our southern border. Hey, it's got to be easier than putting in a fence, right? The problem is that we don't have big, menacing-looking ancient forest giants, we just have bunch-grass and sagebrush. Still, some of the sagebrush is eight feet tall, and it can't hurt to try. I bought a couple of craft-store eyeballs, and wandered down to create a vision of terror that would send would-be trespassers scampering for the safety of their bedrooms. This was the result of my labors: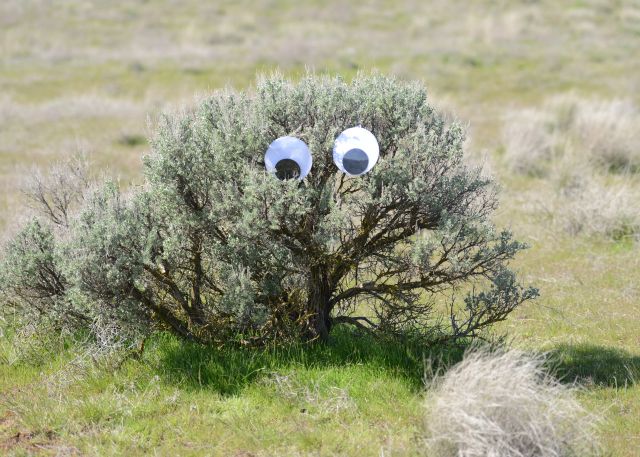 Patty says I should start building the fence this fall. . .