Graphic Novels
On these pages you will find some information about the graphic novels, and the people who make them possible. Here's a little background information about how this all got started.
Publishing Schedule
Alpha & Omega
Cry Wolf vol 1 #1 - on sale now
Cry Wolf vol 1 #2 - Solicited for June.
Cry Wolf vol 1 #3 - Solicited for July.
Cry Wolf vol 1 #4 - Solicited for Aug.
Mercy Thompson
Moon Called vol 1 #1 - Solicited for Sept.
Moon Called vol 1 #2 - Solicited for Oct.
Moon Called vol 1 #3 - Solicited for Nov.
Moon Called vol 1 #4 - Solicited for Dec.
Creative Geniuses
I tell stories with words, but adapting those stories to the graphic novel format is a formidable task. Fortunately for me, I'm working with an awesome team. Here's the folks that make the magic:
David Lawrence: Writer, critic, and "doer-of-what-needs-doing"
Jordan Gunderson:Artist
Amelia Woo: Artist
Homecoming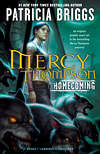 Homecoming is an original storyline, created as an introduction to the graphic novels. For me, it was a crash-course in comic book science. My characters tend to spend a great many pages thinking to themselves, figuring out what they know, and how best to proceed. It works pretty well in a novel . . . but a graphic novel featuring pages of a character staring out the window with little thought-bubbles bursting about their heads is not terribly exciting. So, the comic version of Mercy is a little more action-oriented than the Mercy in my novels. When it doubt, hit something!
When I wrote the novels, I decided that, rather than dealing with some convoluted explanation for magically transforming clothing, I'd just have Mercy change to coyote shape in the nude. Again, in the novels this is a minor point. Homecoming opens with Mercy being pursued by a pack of werewolves. She changes into human form, and is trying to fight them off . . . I was floored when I saw the artwork, showing a naked Mercy jumping, running and fighting for her life. It looked much more, um, blatant in the graphic novel format.
I changed several details to make the graphic novel work. Small things mostly, but an astutue reader will see some inconsistencies. The comic Mercy is going to be slightly different than the "real" Mercy. Changes need to be made to tell a good story in a different medium, and I want the comics to be enjoyable reads.
See Sample Pages
Mercy Thompson
The comic adaptation of the Mercy Thompson series promises to be a lot of fun. Amelia Woo is doing totally amazing artwork, and the script adaptation is very good. I'm really looking forward to seeing the people's reaction to this series.
See Sample Pages
Alpha and Omega
The Alpha and Omega series is a spin-off featuring über-werewolf Charles Cornic, and his mate Anna. The comic series follows the books, beginning with Cry Wolf. The first volume is out, and we're trying to fine-tune the series based on the comments we've gotten.